CORONELLI, V. M. - Isola del Giapone e penisola di Corea.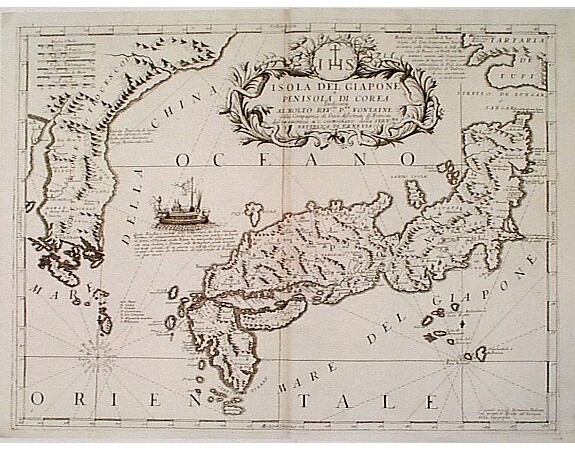 CORONELLI, V. M. - Isola del Giapone e penisola di Corea.
Date: Venice 1692
Size: 455 x 610 mm.
Colouring: Uncoloured.
Condition: A good and dark impression. Some very minor light brown spotting and light discolouration of paper.
Description
A most attractive and decorative map by Vincenzo Coronelli. An elaborate central title cartouche garlanded with intertwined flowers and dedicated to the Rev.de Fontaine of the Society of Jesus. The delineation of Japan is on the standard Martini model although Hokkaido, then known as Yedo is shown as part of Tartary.

The map is of interest for the use of Oceano Orientale, for the western Pacific Ocean and the sea between Korea and Japan.
A larger rather westernized oared barge fills the ocean between Korea and the Islands with remarks on the distance between Osaka and Nagasaki.
The remarkable Vincenzo Coronelli (1650-1718), encyclopaedist, geographer, inventor and Doctor of Theology, was citizen of the Republic of Venice. He was also one of the most prominent mapmakers and publishers in Europe of his day.