CORONELLI, V. M. - Parte Orientale della Spagna. . .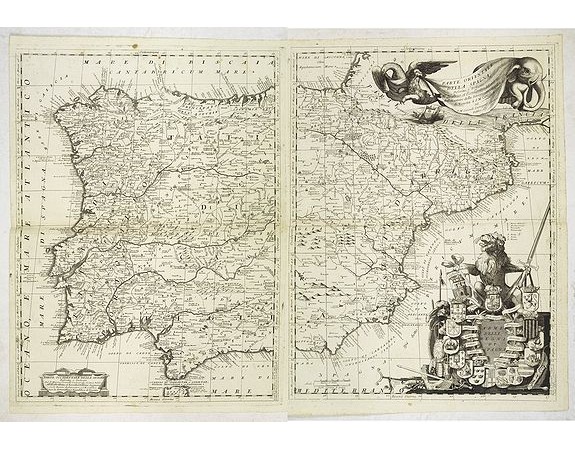 CORONELLI, V. M. - Parte Orientale della Spagna. . .
Date: Venise, 1696
Size: 605 x 895 mm.
Colouring: Uncoloured.
Condition: If joined Very strong impression. Some very light marginal spotting. A tear in center fold left hand sheet underlaid. In very good condition.
Description
A scarce and very attractive double sheet detailed map of Spain and Portugal. This map appeared in the "Atlante Veneto", Coronelli's best known work. In a typical flourish, Coronelli places the Castillian lion in the lower right hand corner with his sword above the shields of the Spanish kings.
In the top right corner the title cartouches features an eagle, rampant lion and elephant.

The remarkable Vincenzo Coronelli (1650-1718), encyclopaedist, geographer, inventor and Doctor of Theology, was citizen of the Republic of Venice. He was also one of the most prominent mapmakers and publishers in Europe of his day.