HONDIUS, H. - Aenwysinge van de Stadt Salvador, ende de Baya de Todos Los Santtos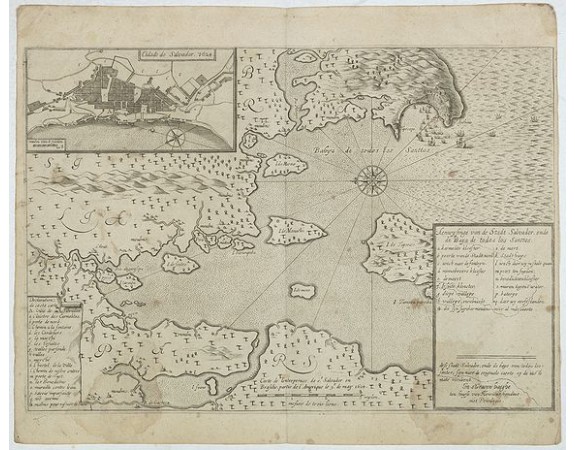 HONDIUS, H. - Aenwysinge van de Stadt Salvador, ende de Baya de Todos Los Santtos
Date: The Hague, 1624
Size: 293 x 420 mm.
Colouring: Uncoloured.
Condition: Light soiling with a light water staining in lower part. With text page.
Description
Extremely rare map of Salvador and Baia de Todos os Santos (Bay of Saints) published by the The Hague publisher Henricus Hondius (not to confuse with the Amsterdam H.Hondius, which is often done !). The copper engraving is a very early depiction of the Dutch attack and capture of the city of Salvador in May 1624. Salvador, then the capital of Brazil, was a strategic port under Portuguese control.

Of Henricus Hondius of The Hague are only a handful maps known, among them the rare series of Polish maps after The Dutch, determined to seize control of Brazil, formed the West India Company in 1621 and sent a large expedition to Brazil. On May 8, 1624, the Dutch fleet under the command of Admiral Jacob Willekens and Vice Admiral Pieter Heyn arrived in Salvador and attacked the city.
The Dutch succeeded in capturing the city, although the Portuguese regained control less than a year later. This map depicts the city of Salvador and its fortifications, with the 26 Dutch ships advancing on the city. The remainder of the coastline is sparsely engraved with a few small towns, trees, and hills. The map is oriented with north to the left and includes an inset bird's-eye plan of Salvador, with 16 locations identified in a key in the title cartouche. A later edition of the map shows fewer ships attacking the city, perhaps illustrating a later Dutch attack.
The imprint at lower right credits Henricus Hondius in The Hague. It is unclear if this is the well-known Amsterdam publisher or the lesser-known engraver and printer from Delft who worked during the same period.
See other items by this publisher: HONDIUS, H.
Reference N°:

44643