ORTELIUS, A. - IAPONIAE INSULAE DESCRIPTIO.Ludoico Teisera auctore.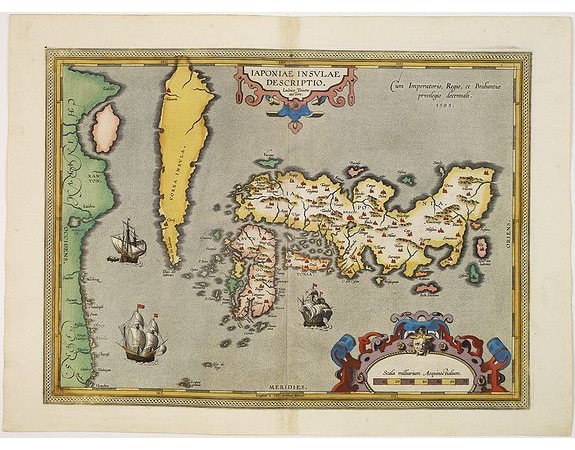 ORTELIUS, A. - IAPONIAE INSULAE DESCRIPTIO.Ludoico Teisera auctore.
Date: Antwerp, 1601
Size: 350 x 480 mm.
Colouring: In attractive strong original colours.
Condition: Mint condition. Some very light marginal discolouration along center fold. Extra ordinary fine colouring.<br />From a Latin text edition, according to Marcel van den Broecke published in 1601.
Description
RARE in this perfect condition. The map was based upon the manuscript draft supplied to Ortelius in about 1592 by the famous official Portuguese chart maker, Luis Teixeira , who was the cartographer to the court of the Spanish King. -Korea is shown as an elongated island whilst Japan is shown with just the three principal islands of the archipelago.
The first printed map of Japan to appear in an atlas, in a first state.
A statement in the upper right corner reads, "Cum Imperatorio, Regio, et Brabantiæ privilegio decennali. 1595," which gave the Royal and Brabant privilege for ten years, beginning in 1595.

Milestone map of Japan. It retained its influence until more than fifty years later when a new milestone map appeared, the Martini map of 1655.
With a letter dated at February 2, 1592 Texeira sent to Ortelius "dos piesas de las descriptiones de la China y del Japan." (Hessels letter 210) Ortelius had asked for these maps in a previous letter, which has not been found. At the same time he promised a map of Brazil, but only the map of Japan and Korea was used for the Theatrum since 1595. The map is the first reasonably accurate and recognizable European depiction of Japan. Little was known of this mythical and remote island.
Korea is shown as an island and even less was known about it.

The map is in a strictly contemporary colouring and of the highest level.
See other items by this publisher: ORTELIUS, A.
Reference N°:

29696